---
Special!
Get a New Panda Book FREE!
When You Buy a 1 oz. Silver Valentine Panda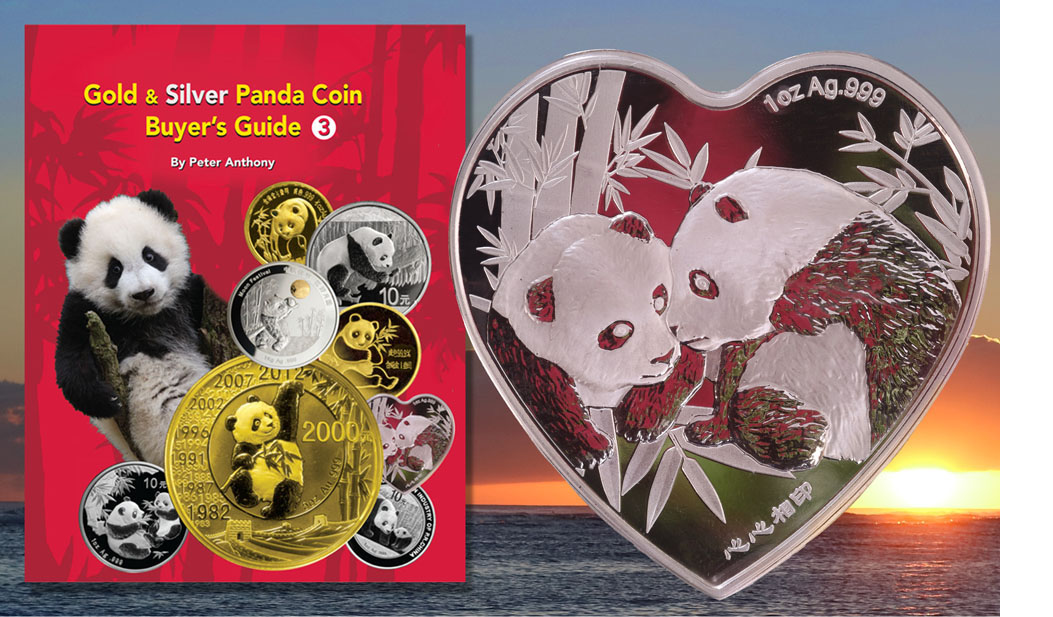 For All Panda Lovers – The Valentine Bamboo Panda
Since it was first issued in 1982, the Panda has become China's most popular precious metal collector coin. Millions have been minted and sold.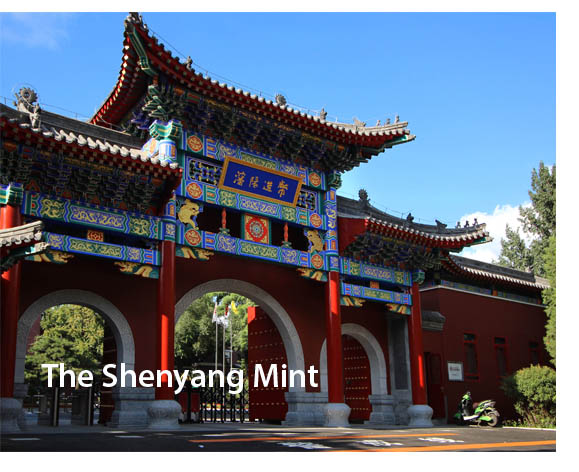 Now, an official Panda has been struck in the shape of a heart. On one side are a pair of Pandas. On the other is a moonlit scene of a bamboo forest. The Valentine Bamboo Panda is a product of the Shenyang Mint, China's oldest mint. It is struck in pure .999 silver.

Only a very limited number of these 2016 Valentine Bamboo Pandas will be offered. The mintage is less than 1,000 and no more will ever be struck. Each current subscription to China Pricepedia allows the subscriber to order two Valentine Bamboo Pandas while supplies last. They will be shipped in their original mint-sealed pouches and include an official Certificate of Authenticity from the Shenyang Mint.

Valentine Panda Highlights



• First-ever official China government heart-shaped Panda
• Mintage of 980

• Contains one troy oz. .999 silver

• Official Government Shenyang Mint product
• NGC Graded
• Hand signed special NGC Peter Anthony label. Only 250 issued.

Special Offer – Free Book!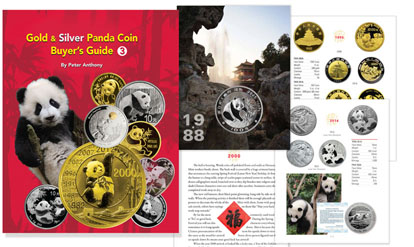 Buy a 2016 Valentine Panda
and Get a "Gold & Silver Panda Coin Buyer's Guide 3" for Free!
Panda Coin Buyer's Guide Highlights
• Photos and facts for Panda coins and medals from 1982-2017
• Weights, metal content and mintage for each coin
• Estimates of current B.U. populations
• Includes platinum, palladium coins and medals
• Varieties described and analyzed
• Panda catalog numbering system
• Bonus chapter on Unicorns
• 368 pages
• Hard cover for beauty and durability
• Author-signed copies available!
• Regular book price $58.88
• $10 rebate to China Pricepedia subscribers

---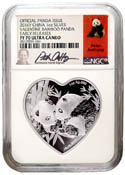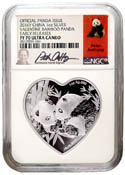 China Pricepedia Subscribers Only. Please subscribe first. Limit two graded Pandas per buyer.
For Proof-69 Valentine Bamboo Panda + Bonus Book
For Proof-70 Valentine Bamboo Panda + Bonus Book
---
Includes free shipping to addresses within the USA. Orders received after May 14 will be shipped on June 7 due to my travel schedule – meet me at the China International Coin Expo (CICE) in Beijing.
Offer subject to availability and may be changed or ended at any time without notice. *New subscribers only, please. $17.22 for each three months after first six months. You may cancel at any time. One trial subscription per person per year. Free shipping only to addresses within the USA.